Sweden Japan Consulting
Building Bridges between Sweden and Japan
Japan: A Land of Many Contrasts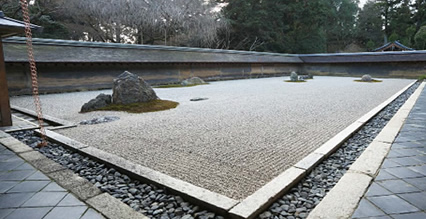 Ryoan-ji rock garden located in northwest Kyoto, Japan. The garden consists of raked gravel and fifteen moss-covered boulders, which are placed so that, when looking at the garden from any angle (other than from above) only fourteen of the boulders are visable at one time.
Although westernized in many ways, Japan is still a land of contrasts. On the surface it might look somewhat different and unique in many respects. However, behind everything there is often a clear logic and rules based on underlying cultural and social mindsets that may not be easily understood by the newly arrived businessman.
At the same time, under the influence of foreign values and trends, Japan is continuously undergoing gradual changes seeming to adopt a more global way of thinking. Nevertheless, the imprint of traditional culture on the way current business is conducted in Japan is still strong, even though the entire cultural context cannot be fully seen from any angle.
How to approach the Japanese Market
To succeed in entering the Japanese market, it is often necessary to combine a thorough knowledge of the Japanese business logic with a deep understanding of the Japanese language and culture acquired after working and living in Japan for a long period of time.
The Japanese business culture is not impenetrable once you learn how to do things the proper way. What might appear to be "unnecessary ceremonies" for many foreign business people, such as time-intensive relationship building, are actually part of the Japanese way of doing business and it is importantl to adjust to the Japanese way.
Careful planning by exploring various options is often needed and, for instance, it is usually not recommendable to sign up the first company that comes knocking on your door.
Japan with its highly complex, competitive and not yet fully open market, is a challenging place to conduct business. In many cases, a consultant is a must to ensure a successful venture into Japan, especially at the initial stage.
Sweden Japan Consulting
Drawing on a long frontline experience in working with Japanese companies, SJC and its founder, Maths Lundin, offers hands-on business consulting services for Swedish and other foreign companies seeking to enter into the Japanese market.
We can also assist companies already present in Japan to expand their businesses and help solving issues they are facing in their Japanese business environment.
SJC also offers its services to Japanese companies seeking to invest in Sweden and/or are looking for Swedish technology for introduction to the Japanese market.